Visit the
museum
On the occasion of its fiftieth anniversary, the Cité du Train in Mulhouse, the heritage museum of the French rail company SNCF, would like you to discover the many rich facets of its history and collections and take a peek behind the scenes.
Openings hours
and days
The railways heritage museum of the Cité du Train is open every day (except 25 December)
• 1 January to 31 March: 10 am to 5 pm
• 1 April to 31 October: 10 am to 6 pm
• 1 November to 31 December: 10 am to 5 pm
The bookstore/shop and restaurant are open at the same times.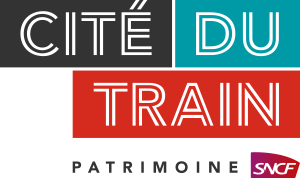 Getting to
the Cité du Train

Cité du Train – Patrimoine SNCF
2 rue Alfred de Glehn – 68200 Mulhouse – FR
Tél: +33 (0)3.89.42.83.33
Email: message@citedutrain.com
The Cité du Train is 5 minutes away from the city centre of Mulhouse, 30 min away from Colmar, Belfort and Basel, and 1 hour away from Strasbourg.
By car: motorways A35 and A36, exit Mulhouse Dornach
By tram: route 3, stop "Musées", direction Lutterbach or Thann
view schedules
By rail: TER, TGV Est & Rhin-Rhône, Mulhouse station
buy tickets
By air: Basel-Mulhouse-Freiburg airport.
Admission
Self-guided tour
Full rate: €14
Reduced rate* : €11 *
Job seekers, disabled visitors with one companion, students up to the age of 26 included, railway workers + partners (Carmillon card), holders of a ticket purchased from one of the M2A partner sites.
Children aged from 4 to 17 included: €9.50
Family offer: €40
Valid for 4 (including no more than 2 adults)
Without exception: children below the age of 4, journalists (as part of a report, to be requested in advance by email).
Away from events: Museums Pass Musées, Intermusées MMSA card, Pro tourism card of the agencies of Alsace (OTC, ADT, AAA), Ministry for Culture card.
Combined ticketing
Electropolis museum: €12 (child) | €19 (adult)
Thur Doller Alsace train: €16 (enfant) | €19.50 (adult)
Tour
Aids
SAM! app (Sud Alsace Museums) which allows you to visit the Cité du Train, and the other museums in the network of the conurbation of Mulhouse, in an enjoyable new way.
SAM! may be used by visitors with disabilities and also by visitors unfamiliar with French (German and English).
The application offers a variety of content (audio comments, videos, photographs, virtual tours, games for children) and can adapt to your wishes with à la carte tours, personalised tours or independent tours.
Game booklet
Children
With family
Discover the formidable epic of the French railway, from the first steam locomotives of the 19th century to the TGV, with the help of small games of observation and deduction.
Available at the museum reception desk from June 12, 2021 (subject to availability)